Destination Wedding – getting married abroad
A dream wedding on Mallorca? Yes!
Are you dreaming of a wedding abroad and would like to have your wedding on Mallorca? What could be better than saying 'I do' under the Mallorcan sun and spending an unforgettable day with your favourite people? Spain captivates with its culture, climatic and geographical diversity. You will experience a special magic if you decide to get married on one of the Balearic Islands: whether a wedding on Mallorca, Menorca or Ibiza – everywhere you are surrounded by the Mediterranean Sea, you can experience culinary delights, relax wonderfully and spend precious time with friends and family.
And the absolute highlight is your dream wedding on a finca or in a location with a sea view that will remain in your memory forever and that your guests will rave about for years to come. Starting with the "Wow! How beautiful" exclamation of the guests when they arrive at your dream location on Mallorca and see the beautiful decoration and are overwhelmed by the whole ambience, to the enchanting words of the wedding officiant at the ceremony, to the delicious delicacies at the champagne reception & dinner and an intoxicating party atmosphere. A feel-good atmosphere at its best!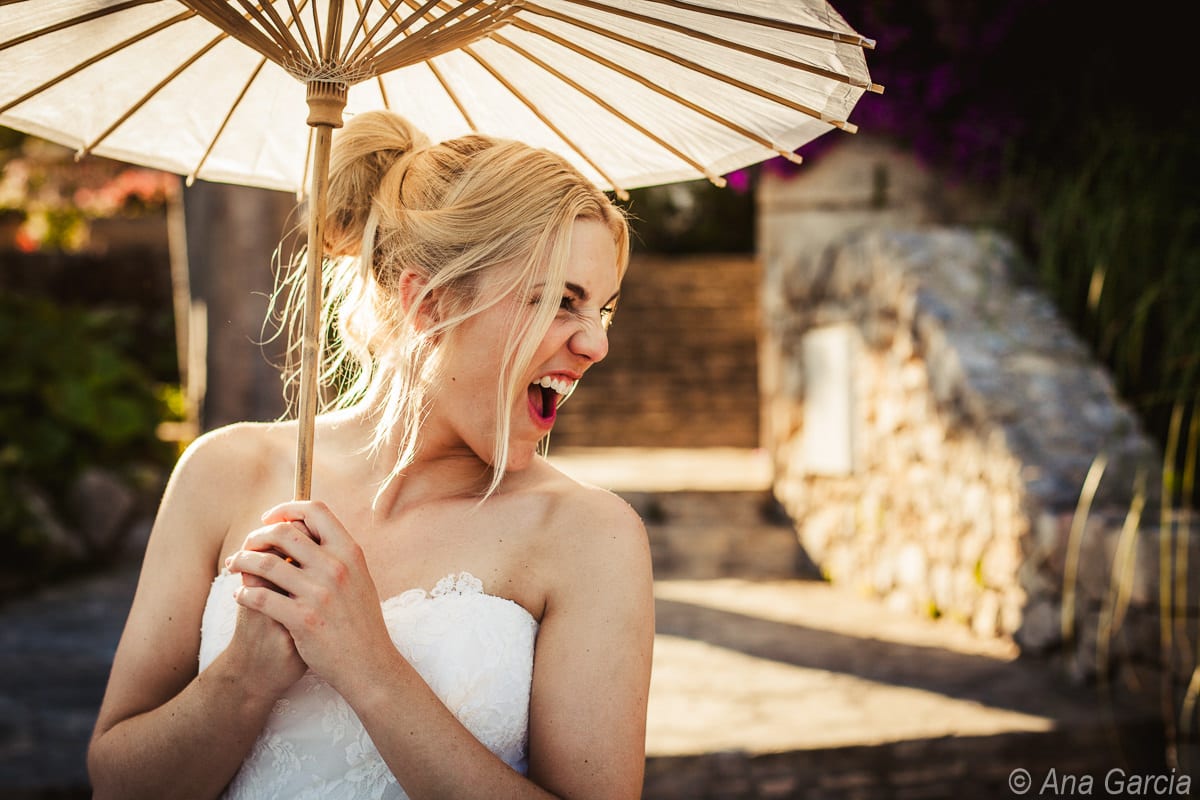 Your decision has been made – you want to say YES to each other on Mallorca, but…:
♥ You don't know any local venues and service providers?
♥ Is it too much work for you to have to organise everything from Germany?
♥ You don't have the time to take care of the wedding planning?
Then you've come to the right place!
Why? We'll be happy to tell you:
Huge portfolio of more than 250
We can proudly say that after 25 years of wedding and event planning, we have the most extensive location catalogue of all wedding agencies on Mallorca. Your free wedding ceremony or church wedding and subsequent wedding reception can be realised in typical wedding locations – whether on a Mallorcan finca surrounded by the Tramuntana mountains, having a wedding with a sea view or in a luxury hotel by the sea – of course also on the neighbouring islands of Ibiza and Menorca!
Large network of reliable
We are at home on Mallorca and have built up a large network of professional service providers over the years. We know the most reliable service providers to fulfil your dream of a spectacular wedding on Mallorca. We are not bound to any service provider, but look for the partners that best suit your needs – from the wedding speaker to the wedding photographer. We put together the perfect package of different services for your Mallorca wedding.
25 years of expertise & know-how
With our friendly Mallorca Weddings team, you can count on expertise, know-how, innovation and passion. We support each other in large projects and stand in for each other in the event of short-term staff shortages. We take the organisational burden off you, including communication, planning and coordination. This gives us great pleasure and you can enjoy the planning phase carefree and with complete anticipation.
With two offices in Andratx and Manacor, our company is based on the beautiful island of Mallorca – from there we plan wedding celebrations on Mallorca as well as on the party-rich island of Ibiza and the tranquil oasis of Menorca. We have been accompanying you as experienced wedding planners on Mallorca since 1998. As a professional wedding agency, we can accompany you from the proposal of marriage to the word of consent. Let us create your individual destination wedding experience with unforgettable moments for a lifetime! Let our wedding planners plan the perfect wedding for you!
Extravagance, Glamour & Style
Luxury weddings
Do you want your wedding to be spectacular and extravagant? As a wedding agency in the premium segment, we focus on the highest degree of perfection. Weddings organised by us on Mallorca are as extraordinary and unique as the personalities of our clients. To create moments together with you that are precious, unique and lasting is priceless. This is how we understand and live our craft. As experts in exclusive weddings on Mallorca, you can entrust us with the planning of your heartfelt celebration. We organise high-end weddings and events with a focus on quality, professionalism and discretion. Especially for a luxury wedding on Mallorca, our clients appreciate discreet, experienced and passionate work.
Touching emotions & tears of joy
Since 1998, we have planned and designed more than 1,000 wonderful weddings and events in Mallorca, Menorca and Ibiza. We have already conjured up wonderful celebrations of love with unforgettable memories for many dear clients. Convince yourself and let yourself be inspired by many heart-touching love stories of different Mallorca weddings:
Click here

Mallorca Weddings
You can find out what wedding planning with us can look like by taking a look at our "wedding booklet mallorca weddings". We would be happy to tell you more about us in an initial meeting and look forward to listening to your wishes. Let us tell your love story together…..
Who is behind the dream team
Like other dream weddings