Getting married in a different style
Boho, Vintage, Hippie, boho-chic…?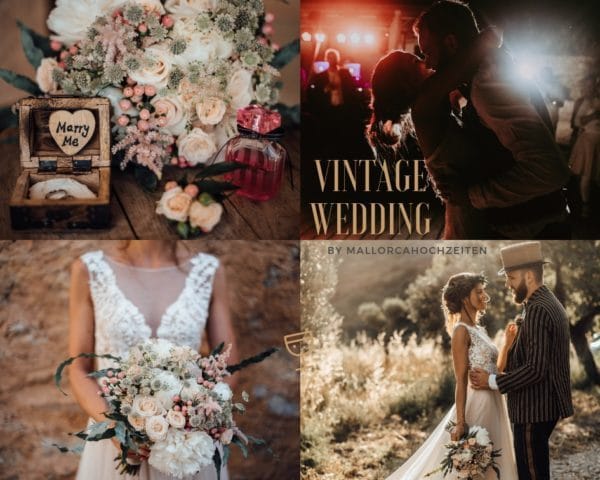 Bohemian Weddings are a trend for weddings. There you won't find a tried and tested styling or setting, but the trump card par excellence: your own style. Combined with everything you like, chic and rustic, vintage and modern, noble and trashy, casual and bourgeois. Bohemian is the opposite of convention. A wedding that arises from personality because the bride and groom live out their taste. In the decoration, the place of the wedding or also the suitable clothes.
We are always happy when we receive a request for a Boho wedding on Mallorca. We also have a weakness for the unusual, the special and the variety. On such occasions we can plunge ourselves again into sophisticated planning and go with full energy into the preparations. Bohemian weddings are a playground where everything is a little different … but also nothing accidental.
A Boho wedding thrives on individuality and creativity. Expressions of spiritual freedom are dream catchers in the decoration, often feathers are hung up or are present in the bride's clothes, floral wreaths as hair ornaments for the bride and a vintage dress with lots of lace underline the Bohemian look and emphasise the contrast to the traditional. Elements of the outfit and stationery are rather simple, include wood, jute or flower elements and reflect a little hippie feeling. A casual barbecue and homemade jam for the wedding guests can be part of the wedding programme. What the bride and groom like is allowed. The perfection lies in combining different styles galant.
Here some pictures of our last wedding in the Boho style on Mallorca. Together with an enchanting bridal couple we were allowed to live out our creativity and so we were able to create an unforgettable wedding. We are happy to share the story with you and maybe find couples who plan their wedding in a boho-chic style, here one or the other suggestion. We are happy to help you plan an enchanting wedding, even with the craziest ideas.
Photo Credit: Tali Photography